Tony Doupé, Executive Producer, 1st Assistant Director  http://www.imdb.com/name/nm0235417
"When I first read the script, it reminded me of my grandmother and how she lived in the last part of her life, a sad elegance. As others I trusted read it and had similar reactions related to their own families, I knew we had to produce this film."
George Watt, Director of Photography
Filmmakers understand that film making is a collaborative proposition. I have worked with the director, David Golden, on previous films, so when he approached me to participate in shooting Autumn Waltz, I was immediately interested. After reading the script, written by Kira Sipler, I was definitely interested in being a part of the film. I felt that this was a great story, and I wanted to participate in telling it.
David did invite me to DP the film, so we began to discuss how we wanted to shoot the picture, and what would be the look. Shoreline Pictures had recently acquired a Steadicam, and we were interested in using it to create a fluid look, and use few, if any, static tripod shots. This meant, however, that operation of the Steadicam needed to be mastered. Joe Andolina and Peter Spawn spent many hours training on how to set up and operate the Steadicam. Cameron Sullivan, the primary camera operator for Autumn Waltz, also had to master the operation of the Steadicam. Joe Andolina would operate a second camera on a shoulder rig.
With the collaboration of the camera crew, David and I were able to achieve many of the shots that we were looking for, especially the touching moment at the end of the film.
I've only mentioned a few of the people that participated in the making of this film. There are many others, the grip crew, sound, make-up, the actors themselves, and others that I am overlooking. Without everyone's efforts, this story, a story that celebrates life, and the efforts and sacrifices that we make, even in adversity, to care for and make the lives of those closest to us happy, could not have been told.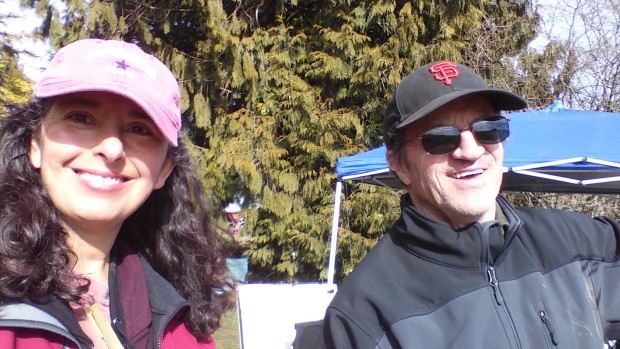 Don Engelbach, Second Camera Assistant
When I first heard about Autumn Waltz, I was reluctant.  Filming in the rain and biting cold of Western Washington in the middle of winter is not appealing.  But after I read that warm and sensitive script, I knew I had to be a part of it.  I signed on immediately.  The producers of the piece proceeded to pull together a top-notch artistic team as well as a hard-working, highly competent technical crew.  The result was a beautifully crafted short movie about one of the most compelling issues of our time.  I am proud to have been a part of the making of this movie.
Barbara Deering (Carol Ann) http://www.imdb.com/name/nm0214376 
Once filming began, we began to share stories and insights – just about every crew or cast member seemed to personally identify with the story's characters. It was a wonderful journey to see everyone personalize the story and create community, daresay, family. Here is some personal insights and photos from the making of "The Autumn Waltz."
When I was invited to audition for Autumn Waltz, I was immediately drawn to the script. The simple love that exists between Carol Ann and Woody… the deep well worn friendship between Woody and Thom… the love that both men share for Carol Ann and the way they cherish the memories of their whole lives together as they watch Carol Ann's become confused and how they try to protect her by allowing her to have her own version of things. It was all very moving for me. The cast and crew for this piece were terrific and I am very happy I got to be part of this heartwarming story.
Walter Dalton (Woody)   http://www.imdb.com/name/nm0198369
I just want to say what a pleasure it was working on "AUTUMN WALTZ"..it was a very friendly set complete with professionals who knew what they were doing. A strong script…great direction and a wonderful cast and crew made every day a delightful experience.  Like most actors, I don't mind working hard if the end result is an artistic success.  A job well done by my fellow teammates!  Cheers…Walter Dalton (actor)
Joe Andolina, Camera
What drew you to the project?  Director of Photography George Watt started speaking to me some months before principle photography about a script called Autumn Waltz. The title alone instantly struck my interest. And when George started talking about the storyline, I was hooked and wanted to be a part of it. Alzheimer's is a disease that effects so many lives, not only those who are inflicted with it, but also those family members who have a loved one who has been diagnosed with this horrible disease. To me, Autumn Waltz is a touching story that could have fallen into tragedy but did not. It gave more of a message about coming to terms with loss and how we can accept what we can't change.
What experience did you gain from being on set, either in working with fellow colleagues and professionals?   What I find great about working on a film set is, no matter how many times I've done it, each production is always a new experience. It's about admitting that we as individuals don't know everything no matter how many times we've been part of a production. It is about continuing to learn, and being open to the collaborative process. Being part of Autumn Waltz allowed me the experience of working with some people I've worked with before,as well as new crew members. And of course a cast that I've never met before the production. I walked away with a great learning experience to bring with me to my next gig.
What were some challenges and how were they overcome?  I think the biggest challenge during the shoot was the deep mud we had to deal with for 10 or more hours. Next time, new boots for sure. But when you're involved in making films in exterior locations, you have to acclimate yourself to whatever outdoor elements are thrown at you. But for me, the process when being involved in the making of a film helps me overcome things like mud and cold weather.
What did you most enjoy about your crew position and what did you walk away from the experience?  As always, working under and along with a bunch of really talented people. I think I always take away elements of what others bring to a set and evaluate if whatever I walk away with will make me even better next time. And as a camera operator, it gives me an opportunity to further my craft.
What were some key moments for you during the shoot?   The bottom line; camaraderie and a collaborative experience as we set out to make a wonderful project.
Peter Spawn, 1st Camera Assistant           
"Working On Autumn Waltz was as wonderful as the story is.  The collective energy we all felt made this a very special production for me."
Jonathan Edwards, Grip and Sound
"I was in a production class with Kira and she asked if I would be interested in working.  I hadn't worked as grip before, and Kira asked me, and thought it would be a good project to work with her and the rest of the crew.  Set was really great – felt like a no-nonsense set, things got done and everyone had great spirits. Being an exclusive outdoor set, lighting was a challenge, especially when setting up a 20×20 silk that tried to blow away the first time!  It was the newest piece of equipment which I'd never used before. Also the Steadicam was great to see in action – I had never worked with one before.Autumn Waltz is a bittersweet story, emphasis on the sweet, on love, and love persisting. It was interesting having an older cast, experienced. It was good to work with an experienced actors, it was great to see how instinctual they worked, with little adjustments or notes. The ending was unexpected….and that derived a lot of the bittersweet tones. Very warm place of the character but it still stings…"
Kira Sipler, Writer, Producer
We are drawn to stories that reveal a little part of us. Films brings us together around a story, around the emotion and heart of an idea together, which can bring community around a cause together.
The struggles, frustration and heartache to watch loved ones deal and succumb to mental illness empowers us to share our personal stories as comfort. The more we filmed, the more determined we became to share the story with many. It became more than a film, it became a quest to pay forward an important facet of our humanity and reminder of the compassion we all possess.
What we do know, though we may not always know what we can do, we know at least we can share a smile, handshake and maybe even a dance to get us through…
Elena Haas, Producer
As we worked in the cold of February on beautiful days, trekking through mud and getting to know one another, it was evident what a blessing it was to have the group that had assembled. Walter Dalton, Tee Dennard and Barbara Deering were a joy to watch bring the story to life.